Background
Christoph Amthor, M.A.
journalist, project manager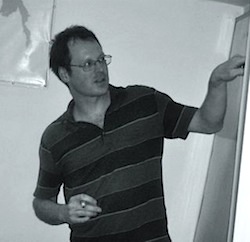 After studies in Germany and England and completing the magister degree at university, I worked in journalism for print, radio, and web-based media, among others as editorial journalist for the German broadcasting of Radio Slovakia International.
In 2006, I co-founded the Czech nonprofit organization Burma Center Prague and continuously contributed as one of two core members, developing it to one of the main organizations working exclusively on Myanmar/Burma with activities in Europe and Asia and a team of up to eight employees.
I was involved as project manager or expert in projects that were funded mainly through the Czech Ministry of Foreign Affairs and that sought to empower the Burmese civil society living in India and inside Myanmar/Burma. During that work, I am responsible for IT and strategy and I established and customized several websites.
I also launched a website that presents less known destinations in the Czech Republic to German readers and I created several audio tours for smartphones.
Currently, I develop plugins for WordPress and dedicate much time to Japanese culture and martial arts.
---